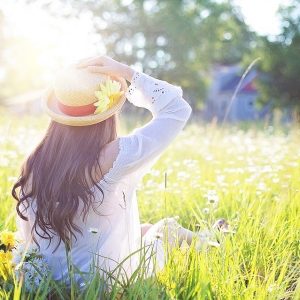 What is 'hypnobirthing' and will it help?
Hypnobirthing has become a massive business in the last few years.
I love the positive birth focus, but I don't much like the hypnobirthing hype.
No technique should take credit for a woman's birthing ability. No one should go into birth believing that they need to do this particular technique in this particular way. No one should expect to behave a particular way in birth.
I have birthed six babies (over five labours) and each one has been very different. The breathing techniques or visualisation that I have instinctively used have been very different, despite practicing certain ones through pregnancy.
There are too many people expecting to be able to breathe their baby out.  You know what? You may wish to moo or roar him or her out instead. You may hope for a peaceful birth and may get it, or you may have very strong sensations and a very intense birth… this can be very positive too.
Now I will share why I love hypnosis and hypnotherapy so much.
It can help you release fears, concerns or anxiety
It can help you dispell limiting beliefs
It is an incredibly great tool to help induce deep relaxation and quickly
It is easier to embed positive birth affirmations whilst in a relaxed state
It can help you trust your own instinct, and act accordingly
Hypnobirthing is a term for using hypnosis techniques in birth, and when I work with clients I like to integrate NLP and EFT techniques as well as hypnosis.
If you have previous trauma, it may be worth your while looking at Birth Trauma Relief first.
Or feeling scared or anxious about the birth…
What's next? The HypnoMothering workshop is amazing.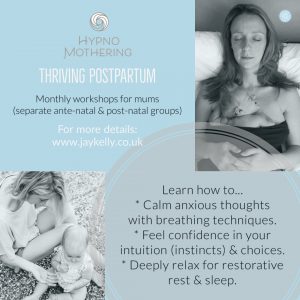 Imagine there is a tool that can help an hours rest feel like the most refreshing and rejuvenating few hours?! Imagine no more!
So when hypnobirthing we may use suggestions that make an hour feel like a minute… and then when you do the HypnoMothering we do the opposite, for the times where sleep is thin on the ground, we want you to feel like a minute is like an hour.
Do you know that 20 minutes of trance time is the equivalent of 3 hours of sleep?
Join the HypnoMothering 2.5 hour workshop for this, plus tools to clear negative feels, relieve anxieties, and help you regain a new balance in life after birth.
For those who may be suffering from exhaustion, overwhelm, anxiety, loss of identity… and those who would like to avoid that.
We never mix post-natal mums with ante-natal mums, so I run workshops for both.
Check out Facebook or Eventbrite for up-to-date info on my available courses and book on.
Harrogate, North Yorkshire, Hypnobirthing, HypnoMothering, HypnoMama Breath.